SEO and Digital Marketing –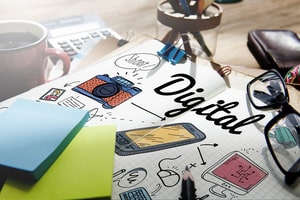 Search engine optimization (SEO) and digital marketing are both important components of online marketing strategies. However, they have different focuses and goals. In this article, we will explore the differences between SEO and digital marketing.
SEO is a subset of digital marketing that focuses on optimizing websites to increase their visibility and ranking in search engine results pages (SERPs). SEO encompasses various tactics such as keyword research, content creation, link building, and technical optimization. The ultimate goal of SEO is to attract organic traffic from search engines, such as Google, Bing, or Yahoo, and generate leads or sales for a business.
Digital marketing, on the other hand, refers to a broader set of activities that promote a brand or product online. It encompasses a wide range of tactics such as email marketing, social media marketing, pay-per-click (PPC) advertising, content marketing, video marketing, and more. The goal of digital marketing is to increase brand awareness, engage with potential customers, and drive conversions.
SEO is a Long Term Strategy
One of the main differences between SEO and digital marketing is the time frame for results. SEO is a long-term strategy that requires patience and consistent effort to achieve sustainable results. It can take several months to see significant improvements in search rankings and traffic. On the other hand, digital marketing can deliver faster results, especially through channels like PPC advertising or social media ads, which can generate immediate traffic and leads.
Another difference is the level of control over the audience. With SEO, businesses cannot directly control who sees their website in search results, as it depends on the user's search query and Google's algorithm. However, with digital marketing, businesses have more control over the audience they target through various channels. They can create targeted ads or email campaigns based on demographics, interests, or behaviors to reach specific audiences.
In conclusion, while SEO and digital marketing share some similarities, they have different objectives and tactics. SEO focuses on optimizing websites for search engines to attract organic traffic, while digital marketing encompasses a broader set of strategies to increase brand awareness and drive conversions. By understanding the differences between these two approaches, businesses can develop a comprehensive marketing strategy that leverages the strengths of each. Contact us to learn more.