Domino's Pizza started its operations in 1960. It is now the largest pizza chain in the world with more than 5,700 branches over the world in 58 countries. Domino's initially offered only delivery or carry-out.
Domino's Pizza & Social Media Marketing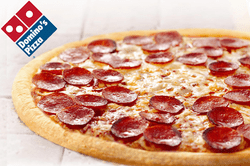 Domino's Pizza has always been ahead of the game. They've kept adapting according to the needs of it's customers and kept itself thriving as one of the most well known pizzerias worldwide. Similarly, when the time came, it was also quick to adopt social media marketing to it's business too. Facebook, Instagram, Twitter and a YouTube social media presence was created where customers were provided with a fun and helpful approach.
Using Social Media As A Means For Customer Feedback And Satisfaction
Domino's not only used social media networks as a means to market itself, but it also focused on customer satisfaction and retention through it. Users' general problems related to lack of pizza delivery, insufficient or incorrect topping and other problems' were allowed to be asked on social media. Their social media team replied quickly, efficiently and tried to satisfy each customer which resulted in users' sharing their positive social media dealings with their friends, improving the brand's image further.
AnyWare Campaign
Domino's Pizza upped their game even more. By 2011, they decided to double it's digital sales in the next 5 years by focusing on digital marketing. Soon Domino's Pizza announced its "AnyWare Campaign" which aimed to provide customers an easy way to order from their devices. This campaign allowed customers to order through smart TVs, smart watches and smart phones.
One of the most notable aspects about it was their Twitter campaign. Unlike Taco Bell, Domino's did not need to struggle for an emoji because a pizza slice emoji was already available. Domino's gave the users a convenient way to order. Users just had to order using the hashtag #EasyOrder or use the pizza slice emoji.
As a result of Domino's Pizza social media marketing, their campaigns received more than 2,000,000,000 media impressions and the strategy finally helped Domino's pass its digital sales by 50%.
Learn more about social media marketing, and contact us to find out how we can help improve your sales via Social Media.