Marketing For Lawyers –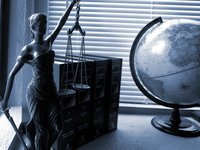 Every professional lawyer in today's market needs an online presence as it's the best strategy to reach out to more customers and make new contacts. For new lawyers, an online presence could improve your rating and give you the exposure you need in your community.
How Can a Lawyer Build an Online Marketing Presence?
This is where the problem lies for many new legal practitioners. There are so many internet marketing platforms to choose from, and you have to understand that not all of them will be suitable for your business. So how then can you find the right platform for your law firm? To build an online marketing presence for your law firm, you'll need three important things:
A search engine optimized website
Social media accounts
A lot of content
Get on The Digital Train
The internet is helping a lot of law firms and attorneys to get their product and services in front of millions of customers. This wasn't possible some 20 years ago before the introduction of the internet. A good professional website will help you kick start or even elevate your legal career.
You don't need to have technical knowledge on how to design or host a website before you get online. All you need is to choose a professional website layout for your business and/or legal blog where you share tips and advice. Your website is the perfect place to spread awareness and increase your client portfolio fast
The Power of Social Media For Lawyers
Social media is a great tool to build an online marketing presence for lawyers. Once you decide on which platform to you, you can easily network with clients in your niche and location. You can also create a Facebook and Instagram account to shares pictures and info-graphics.
Social media accounts, when used correctly, can allow you to connect with colleagues and friends and keep up with the latest developments. You can easily find someone who is looking for a lawyer on social media and help them out with legal issues quickly. You can also have potential clients contact you for more in-depth legal services.
Don't forget about Linkedin. You can use Linkedin to get your business profile out there and easily connect with potential clients in different parts of the world. You don't want to miss out on such a big opportunity.
Content Writing For Lawyers
To be able to reach out to a lot of people, you'll need to create a lot of content for your website. This includes written articles, audio and video to gather a fan base. This is very important when building a strong online presence. You can outsource some of theses tasks to an SEO company like SEO Noble and focus on improving other aspects of your business. Contact us today for more information.