Car Dealership SEO –
Reach More Customers Online with Car Dealership SEO
Running a car dealership is not an easy job. In order to survive and thrive in this business, you must have something unique with you that sets you apart from the crowd. Despite that stand-out factor, dealerships seem pretty similar to buyers. Most buyers don't think much about this as long as the dealer is reliable and gives good service. However, with proper SEO, you can make your car dealership stand out and attract more customers than ever.
Why is SEO for Car Dealers Important?
According to NADA, the National Automobile Dealers Association, as many as 16,800 franchised dealerships can be seen within the US, in addition to the thousands that operate independently. In most cases, you're likely to see competition in your local area from other car dealers. Significant changes in the way users shop for cars today is more complex that it was in the old days. Clever marketing campaigns, witty gimmicks, and others such strategies are a thing of the past. In order to beat your competition and move ahead, you'll need a very strong online presence.
Even if a customer buys from an offline establishment, research tells us that as many as 62% of prospective customers shop online before coming to a brick and mortar shop. Before deciding the place from where they want to buy, customers usually spend a lot of time looking around the web for options. All this should be used to make your SEO strategy stronger than ever and make your business rank higher in the search engine. The higher you rank, the more prospective buyers will place their trust in you and your business.
SEO Strategies for Your Car Dealership
When you've decided to perform SEO, the first thing you need to know is that you can do SEO the right way or the wrong way. Doing the latter can land you, your website, and your business in trouble. Your site could get penalized and chances are very slim that it will see the light of the first page. Check out some of the basic strategies that we have compiled and explained for you here.
Increase Your Site's Visibility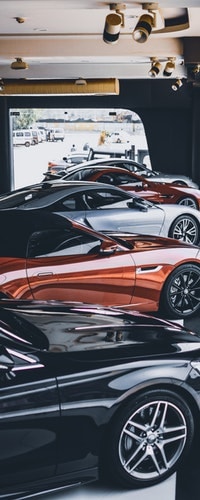 Keywords were the "be all" and "end all" of the SEO game at one point in time. With the refinement of the search engine algorithms, you'll now need more than just relevant keywords. Don't get me wrong, keywords still play an important role. However, you'll need to use it in addition to other tactics to reap the full benefits. Google's "RankBrain" algorithm tries to figure out the intent of the search, the user's click history, relevance of the results, and analysis of how much time the user spends on particular sites.
Keywords show the search engine how relevant your website is to the search entered by a user. To be successful, create content that includes keywords naturally. Ensure that each page comes with a meta description and title, both of which contain your main keywords. You can use long-tail keywords in your images' ALT tags. Long-tail keywords are more important to car dealership websites, mainly because most people search for specific models or types of vehicles rather than enter a generic search term.
Local SEO For Car Dealerships
When prospective customers search for a "dealership near me" using their mobile search, the car dealers whose websites are optimized will show at the top. In order to show up in the top results, you need to add your contact details and information about your business to every page of your website. Add these details in local web directories and listing. There are some generic ones available as well as ones specific to your industry.
The greater the number of listings you're seen in, the more search engines will believe you to be legitimate. Kelley Blue Book, Cars.com, DealRater, and Edmunds.com are some of the specific car listing platforms. Once you're done with all this, let your current customers know that you would really appreciate a review. You can send emails to your customers asking them about their experience and requesting them to leave you a review. Feedbacks, testimonials, and reviews are a major tool.
Collect Quality Backlinks
Another effective method to increase your online visibility is to get popular and well-known websites, blogs, and local publications to link back to your website. A network of local links will tell the search engines that you are relevant to the search. If you donate time or money to any organization, ensure that they list you as a supporter on their website. If you are hosting or sponsoring an event, link to the news article or announcements about the same. If you achieve something, write a press release and link to it.
You can also expand your network by finding influences in your industry or popular content creators for your niche and post them on your website. You can further expand your reach by posting them on social media and actively interacting with your followers.
Let Us Help You With The Best Car Dealership SEO Strategy
We understand that it is tough to keep up with the latest updates that search engines always seem to be undergoing. It is very likely that you might discover the SEO strategy you had in place when you first started is now very outdated and you now need something fresh to catch the search engine's attention.We have the answer for you.
We can check your strategies, make changes, or apply completely new ones. Optimization strategies need to be strong and any weaknesses will set your website back. Since local search is an important strategy, we offer local SEO services as well. With our assistance, we are sure that you'll start ranking right at the top of the results page. Not only do we have to apply new strategies, but we also need to weed out outdated strategies. Reach out to us and request a free consultation.
SEO Noble – The #1 Provider of Car Dealer SEO Services
As you know, cars are an important part of the everyday lives of billions of people across the world. As much as people are driving their vehicles, they're also looking for places to get the best deals on new or used cars.
If you're running a car dealership that provides these services – answer this question. Will your website and business information even be visible when a prospect wants to buy a car? If you answered no or if you're not sure, it's time you considered purchasing premium SEO services for your dealership. SEO Noble is the #1 provider of car dealer SEO services, and we'd love to help you improve your online presence. To learn more about our services, read on for more details.
Award-Winning SEO Solutions
SEO Noble has won numerous awards for our cutting-edge SEO solutions. No matter what niche you operate in, our team will devise an effective SEO campaign to help you receive top-notch SEO results. Just take a look at how we can help you reach the top of your industry.
On-Page SEO – Whether you need a thorough keyword analysis or metadata added to your website, our team can optimize your site so that it's ready to rank well online.
Website Speed – Having a slow website is a deathwish in today's microwave generation. When you choose to work with us, we'll design you a state-of-the-art website that's lightning fast and mobile-friendly.
SEO Link Building – In SEO, the more links you have, the more online authority you receive. With our SEO link building services, we can help your site accumulate organic links all throughout the web.
Guaranteed SEO Success
If you have worked with an SEO agency before and have your own bad experiences, you've come to the right place. At SEO Noble, we have encountered countless clients that have been left unsatisfied with their previous SEO agency.
Just like we have done before, we can help you receive the highest return on your investment so you're left with results. Upon working with us, our team will provide you with regular reports indicating your online growth so you can track your success. During this phase, we'll use SEO techniques that actually work so you aren't wastefully spending your money.
Call Us Today!
Are you interested in learning more about our car dealer SEO services? Yes! Give us a call at (800) 749-8416 to speak to a member of our award-winning SEO team today.